Screening for eye diseases involves going to your eye care professionals such as optician, optometrist and ophthalmologist (eye doctor) to have your vision measured and eye examined thoroughly for signs of any eye diseases.
This is because certain eye diseases (such as glaucoma or diabetic retinopathy or) may not have any obvious symptoms in the early stages of disease. However, in the latter stages of the disease, your vision may deteriorate to the point that it may not be saved by either medication or surgery. The frequency for an eye examination usually depends on the age of the person and other factors.
These risk factors depend on whether the person wears glasses or contact lenses, their family's history of eye diseases, the type of eye condition or the medication the person is on.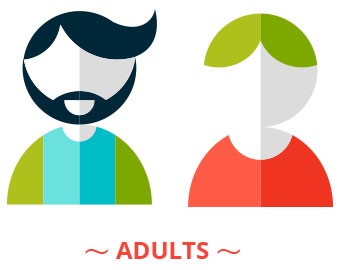 It is recommended that normal healthy adults should have a comprehensive eye examination once every two years. After the age of 60 years, the risk of developing cataracts and age-related macular degeneration is higher and as such, should have an annual eye examination. Those who are at risk of eye diseases should also have more frequent eye examination.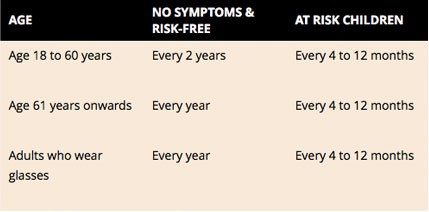 Risk factors for adults include:
Persons on treatment for diabetes.
Persons on treatment for glaucoma (known as high eye pressure)
A family history of eye disease (glaucoma and macular degeneration)
Taking medication that may have eye-related side effects such as chemotherapy (causes dry eyes)
Steroids (causes cataracts and glaucoma), hydroxychloroquine (causes maculopathy)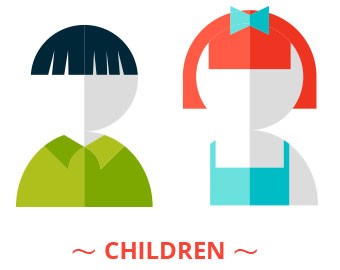 Routine eye examination is essential for children as most of the information children receive in classrooms are presented visually to them. Inability to see what the teacher has written on the black or white board can lead to poor comprehension and ultimately poor academic performance! It is recommended that children should have their first eye examination at 3 years old and again before the start of school (around 6 years old). Risk-free children should then continue to have their eyes examined every two years until age 18. Children who wear glasses or contact lenses should have their eyes examined yearly as the prescription may change within this period.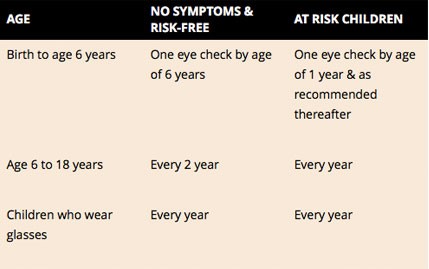 Children with risk factors for vision problems may need their first eye examination earlier and may need more frequent eye examinations throughout childhood.
Risk factors for children include:
History of pre-maturity or low birth weight at birth
Family history of eye diseases such as lazy eye or squints
Developmental delay
How Often do You Need to Check Your Eyes?
Using specialized equipment, the eye care professional can conduct an external and internal examination of the various parts of your vision system including the eyelashes, eyelids, conjunctiva, iris, lens, cornea, pupils, extra-ocular muscles, blood vessels, optic nerve and the retina. The eye care professional will be able to determine whether you need glasses by measuring your refractive error which could be short-sightedness, long-sightedness or astigmatism. An eye doctor will be required to determine whether you have any eye diseases.
A comprehensive eye test should include the following: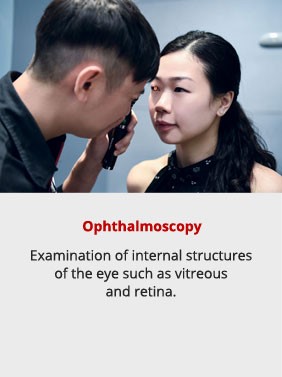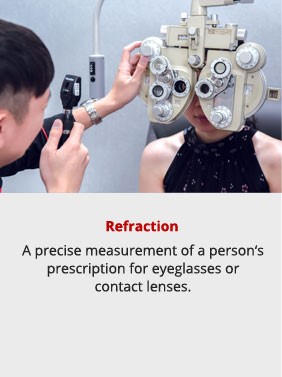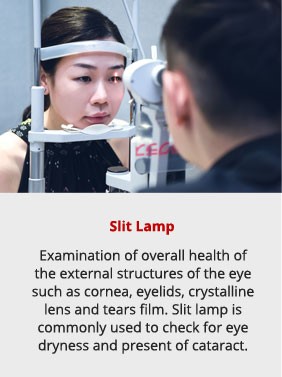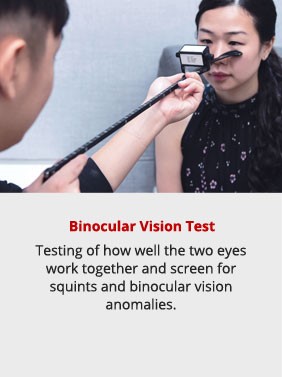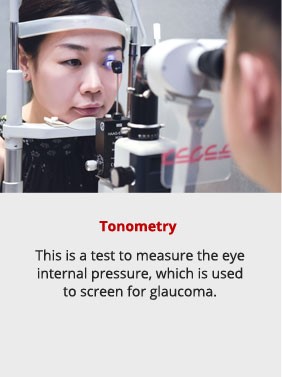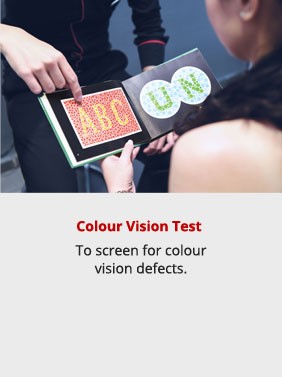 Who Should I See for My Eye Test?
There are several types of eye care professionals namely ophthalmologists, optometrists and opticians.
Who you should see depends on your needs.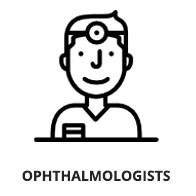 Medical doctors who specialize and treat eye diseases and perform eye surgery. These eye doctors have completed medical school and have undergone additional post-graduate training in medical and surgical eye care.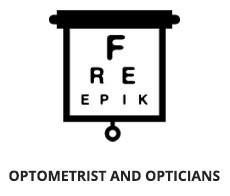 Eye care professionals who can prescribe glasses and contact lenses. They are well-trained in refraction and can measure your prescription for your glasses or contact lenses. They can also help you choose the types of spectacles frames most suited to your face and recommend suitable lenses. Although they are not doctors, they have been trained to recognize simple eye diseases and will refer these patients to the ophthalmologist who will treat the eye diseases.
Summary
Two Yearly
Adults (18 to 60 years) to screen for cataracts, glaucoma and age-related macular degeneration
Children who do not wear glasses and have good vision
Yearly
Children of schooling age who wear glasses.
Adults over the age of 60 years.
Patients with family history of glaucoma.
Patients on treatment for diabetes for less than 10 years.
4-6 Months
Patients on treatment for diabetes for more than 10 years.
Patients who have poorly controlled diabetes.
Patients on glaucoma treatment.